July 01st
Sunrise
04:55
Sunset
20:55
+48°8'11.63"
+17°6'17.05"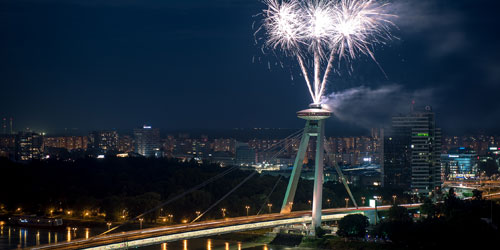 New Year's Eve Masquerade ball - Celebrate New Year's Eve in style!
UFO watch.taste.groove. offers you an exclusive experience 95 meters above Bratislava witch includes entrance to the sightseeing tower, a front-row view of the fireworks, welcome drink, 10-dish degustation menu and live DJ music. Experience an evening full of surprises and excellent cuisine! Reserve your table here!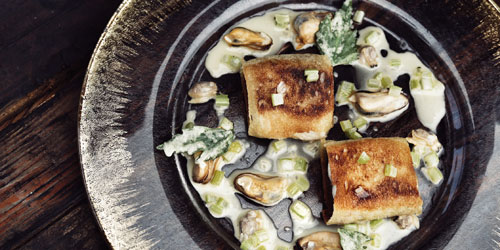 The UFO watch.taste.groove. restaurant brings you a new menu created by a Michelin chef!
This coming season our Mediterranean-Asian cuisine will switch to Wallonian cuisine! The new menu was created by chef Eric Simon R. Martin, holder of a Michelin star and his dishes will be served in our restaurant for the entire upcoming season. The new UFO watch.taste.groove. menu can by found here.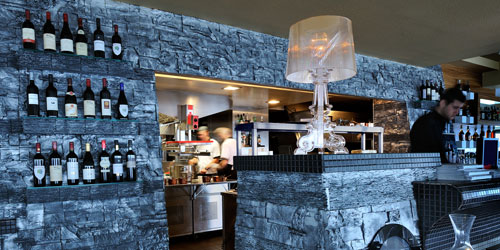 Tasting of Wines, Beers and Cocktails
In addition to the local seven course meal, in the restaurant UFO watch.taste.groove, you can order a special paired tasting of wines, beers or cocktails. Beer lovers may, in the absence of an extreme hunger, order the tasting of beers separately at the bar.
Observation deck
Observation deck UFO An iconic building, symbol of Bratislava, annually visited by thousands of visitors. You will have the panorama of the capital city of Bratislava in your hand, the Bratislava castle, Parliament, St. Martin Cathedral. You simply have to see the view with your own eyes.
more information
Restaurant & Bar
UFO watch.taste.groove., restaurant and two bars, which are located in the dome of the observation deck, those are the choicest culinary specialities and exquisite drinks, prepared with passion and fantasy. You will come, taste and we will give you a gastronomical experience.
more information

Beach under UFO
From June to September you can experience the rush of a pulsing city from a different perspective at the Danube embankment. You can enjoy delicacies of our beach kitchen, selected drinks, quality wine and during selected days also events with top-level musical production.
more information
Top-level catering
To be the top in service, to cook perfect meals, to only pick out of the best drinks, that's only a part of our mission. We prepare an experience. We prepare events full of ideas and originality, those with an atmosphere, events for people, for the satisfaction of our clients. We prepared the Ball in opera, events for ČSOB, Accenture, Eset, SPP and others.

Red Monkey Group Catering
more information